A Proud Principal's Final Few Words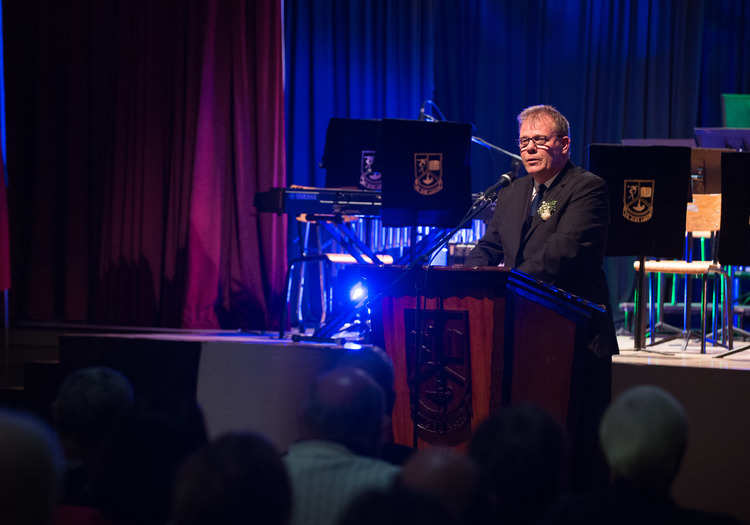 I would like to thank you all most lovingly for sharing our time together. You make me feel very special indeed. Please know that you have all, in some way or another, had an indelible influence on me during my time at Alex. I am eternally grateful and deeply humbled.
It is a most strange sensation having to bid farewell to a home that I chose unreservedly so many years ago. I recall the day I arrived at Alex for the first time. It was very similar to buying a house. Many of you will know that when looking to purchase a house, and after having seen many possible options, you enter the front door of one and know that this is it. This is home. It is a sense that tells you and your family, that this is where you belong. I am not really sure what it is that talks to you, but there is something almost surreal about the experience; that sense of knowing that this is where you and your family are meant to be. And in time that sense of homeliness grows on you as you begin to uncover the soul of the spaces, discover the heart of the angelic spirits and hear the thoughts of those who have come before and of those who will arrive long after. And then you begin to apply new paint, build new rooms and create new dreams for further developments and expansions. You begin to decorate and craft compassionate and safe opportunities to nurture, care for and cultivate hope for your family.
While the core of the home remains intact.
I was interviewed by two delightful young ladies from our school newspaper Alex Press the other day. One of the questions they asked me was 'What is your best memory of your time at Alex? Since then I have been asked a similar question by prominent members of the education fraternity, who wanted to know what the highlight of my career has been. The answer was easy and my response instantaneous:
The Children. It is all about the children .
They are the bricks and mortar that have shaped my home and brought inspiration, passion and energy to everything that has defined my role as leader, manager and visionary.
I have clung uncompromisingly and unashamedly to the belief that in order for our school to be a home to all who enter, we must continue with the mantra that it is not what the child can do for the school, but rather what the school can do for the child that matters. I have relentlessly avoided the temptation to create an environment where winning and being the best, drives education philosophy and hence incessant competitiveness. I feel comforted that I have been surrounded by parents, teachers and children who believe that it is far more important to be the best for, rather than constantly try to be the best in.
I have repeatedly reminded myself that when one begins to focus on self-centred grandiose goals that serve to fan vanity, then the true meaning of education is lost. I have never been afraid to voice my clear and unabridged condemnation of such fabricated examples of supposed excellence. To be the best you can be is found within one's heart, soul and mind. It is the core of character rather than the nucleus of war.
I have become increasingly aware that the meaning of success at schools needs to be expanded to embrace significance – and there is a fundamental difference between the two.
It has been a remarkably rewarding journey to be able share our Altogether EXperience vision with likeminded people. We have tried to carve out pathways that allow children to celebrate their diversity and embrace difference. The transformation of our home is tangible and visible and I pray that it continues to offer a place of safety and meaningful warmth where all are made to feel welcome and loved for many, many years to come.
The design of our landscape and the architecture of our developments have not been without courage. I have been inspired by rigorous debate and various differing points of view. I have tried to encourage individual opinions and listen to recommendations from all. Our practice of consensus through thorough analysis has been the source of well-researched decisions at both operational and governance levels.
Over the years I have had the pleasure of working with a number of passionate and influential leaders and I have learned much from their strengths. The following list of leadership characteristics provides a fleeting overview of what I have found to have guided my role as principal during my years at Alex. The list could have been a great deal longer and the explanations that should accompany each of the points would possibly explain the characteristics more clearly. I have for the sake of brevity however, limited comment in the hope that each will be fairly self-explanatory.
These leadership behaviours have all helped to guide my thinking…and strengthen my own leadership opportunities…perhaps there is a book in here somewhere!
1. I have endeavoured to build a strong, reliable, supportive but challenging network of teams at governance, operational, departmental, parental and learner levels
2. My preference was to practice a servant leader approach, taking into account the importance of recognising that the needs of pupils drive all decision making
3. The inculcation of a school culture of happiness, contentment, security and empathy has overarched many decisions that needed to be made.
4. Passion, passion and compassion guide my thoughts into actions
5. I tried to drive the vision relentlessly. The ALtogether EXperience is very special and unique and until now has determined our brand
6. It has been a daily practice for me to try and listen carefully and attentively in order to learn and lead with understanding
7. The celebration of diversity through inclusivity continues to be a remarkable lesson to which all South African leaders should ascribe
8. The focus of discussion is on a triple bottom line by providing an educational opportunity that helps the school remain a provider of choice, an employer of choice and an investment of choice
9. I have encouraged others to create an educational culture that celebrates opportunities to be the best for a transforming South African education landscape
10. I have tried to be myself and have fun
11. I found that to invite criticism and alternative ideas encourages participation
12. Practise improves the art of emotional intelligence
13. I was never afraid to be child-like
14. I leave work at work and home at home
15. Although at times I thought I knew better, I made use of the expertise of others without fear of losing control.
16. Managing with care is non-negotiable
17. I willingly accepted responsibility and accountability for everything that comes with the position and I tried not to cast blame
18. Apologising when in the wrong went a long way to weld relationships
19. The installation of sound financial controls and astute accounting practices were placed in the hands of experts
20. I made a point of taking time to take time off
21. I never forgot to smile every day and find something good to say about anyone or anything
Thank you all for this amazing journey. You have all managed to help me furnish this, my home, for the past 22 and a bit years. If I were to be given the opportunity, I would do it all again. To my three predecessors, it is an honour to join your company on the wall in the hall foyer, where I too will smile on the future developments of our school.
Nil Sine Labore
From the bottom of my heart…thank you.
Dr Peter Manser
A Proud Retiring Principal
June 2019