Alex edge Port Alfred in derby
Alexander Road High School took to the road on Saturday to face Port Alfred in their annual derby. Alexander Road, coming off a successful week of results against Westering, continued to show class against some formidable Port Alfred sides. The matches were played in good spirit and were highly competitive. The Alex boys' 1st team hockey side continued their fine form with a commanding 4 – 0 win. Na'eem Ellie was on song, scoring a brace to secure the win for Alex. There were two draws in the girls' hockey matches. The u14A sides drew 1 – 1, while the Port Alfred 1st side held on to a 0 – 0 draw. The under 16 A girls' hockey match ended 6 – 0 in Alex's favour.
On the netball courts, Alex took most of the spoils. Alex U18A side produced their best performance of the season. They stretched their opponents with some excellent passing play. The match ended 35 – 17 in Alex's favour. Alex's goal shooters showed good accuracy to secure a 13 – 5 victory over Port Alfred in the under 16A match. Alex won the under 16B match (8 – 5), while the Alex under 14 team lost (14 – 6) in an entertaining match.
The Alex 1st team rugby scored a try in the 1st minute to gain an early 5 – 0 lead. However, a lapse in concentration saw Port Alfred snatch the lead after scoring a try and conversion five minutes later. The remainder of the first half remained flat. Alex went into the break with a slender lead of 8 – 7 after a successful Cole Parkinson penalty.
In the second half Alex came close to scoring on a number of occasions. With ten minutes remaining, Alex dotted down their second try. The match ended 16 – 7 to Alex. In the other rugby match of the day, Alex under 15A won 19 – 17.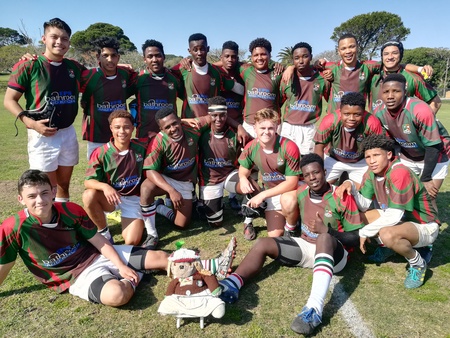 Port Alfred Derby
SAT 27 JULY 2019
BOYS' HOCKEY
1st team won 4 – 0
RUGBY
1st team won 16 – 7
U15 won 19 – 17 
NETBALL
U18A won 35 – 17
U16A won 13 – 5
U16B won 8 – 5
U14A lost 14 – 6
GIRLS' HOCKEY
2nd team drew 0 – 0
U16A won 6 – 0
U14A drew 1 – 1
More photos can be viewed on our official sports Facebook page.